1971 Corvette - $18,800
T-top, Muncie 4-Speed – 350/270 hp – numbers matching.
Standard steering, standard brakes - no A/C - no PW.
This car is a frame-on restoration. Have many original parts that go with it. Have over $8,000 in receipts and at least $4,000 in new parts that I can point out that there are no receipts for. Runs and drives excellent. Super straight frame – no rust.
Interior:
Original color - dark blue interior. Sound barrier installed under carpet – carpet in great condition front and back. Perfect dash, door panels. Original seats have been recovered in original color. Seat belts new – have originals. Console perfect with new cover plates. Original radio has been replaced with Retro Radio Sound made specifically for this car – comes with remote and includes UBS/SD and MP3 playback. Installation of radio is perfect not a slop job. (see photo) Have original radio. Clock works! All gauges work. Rear storage area and 3 compartments are in perfect shape. All interior lights work including the fiber optics, however, the interior lights do not come on when opening driver's door but okay for passenger door and the headlight control. New gas, brake and clutch pedals. New floor mats. New visors. New heater controls. New rear view mirror.
Mechanical:
Odometer reads 89,000 HOWEVER. Engine is 350-270 hp original bored 30 over. New pistons bearings, oil pump, Erson cam, hydraulic lifters, Manley springs, new stainless steel 202 valves, intake, 164 exhaust, poly carb, stock intake, ram horn exhaust, new clutch, throw-out bearing, pressure plate. All new wiring harnesses. New Hurst shifter, have original. New A-arm bushings, new ball joints, totally rebuilt rear trailing arms with new emergency brake hardware. New SS brakes. New Flame Thrower electronic ignition in stock distributor, have original points. New alternator, new radiator, all new hoses. New gas tank. New spare tire upper and lower tub (no spare tire). New exhaust from manifolds back – Magnaflow 2.5" stainless steel with cross-over and polished mufflers. New fan with clutch. No leaks. Only thing wiper door and wipers want to work - they come up when starting car but then go down – I'm told it's a vacuum leak or hose not connected correctly. I can't find it. Engine bay and undercarriage is super clean.
Extras:
Have aluminum valve covers for it and the chrome plug wire covers – perfect shape – not installed. Have new wiper/washer jug – not installed. Have new interior door pulls – not installed. Have original rack that was removed from back. Have a ton of paperwork and notebooks – including original manual and radio instructions, laminated wiring diagrams and laminated vacuum diagram and assembly manual. Lots of other miscellaneous nuts, bolts, screws, connectors, etc. Lots of the original parts and many new parts. See photos.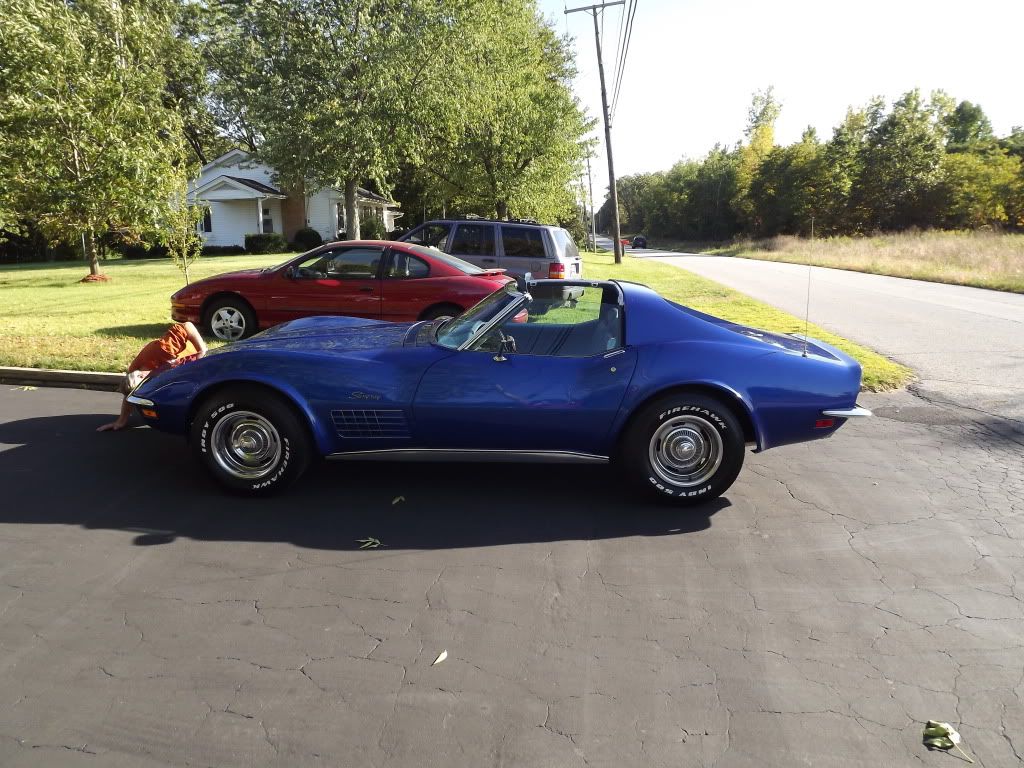 Link to photos: [url="http://s1276.photobucket.com/albums/y469/pyrpressure/"]
Source...